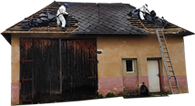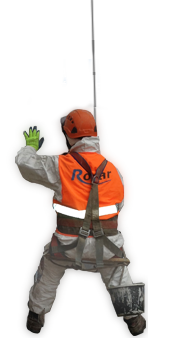 Dismantling of asbestos from roofs
Dismantling of asbestos from roofs
If you have asbestos roofing on your family house the procedure is as follows:
Our company will prepare a non-binding price offer for professional dismantling of ASBESTOCEMENT Roofing (ETERNIT - corrugated, template)
The price for ASBEST is calculated according to several factors, which are: - the size of the asbestos roof covering, the location of the construction site away from the hazardous waste dump, the site conditions (need for scaffolding, mobile forklift platforms ...)
These factors have a major impact on the price of asbestos - asbestos coverings.
The offer will include comprehensive service - (all necessary approvals and permits will be provided by our company):
Based on the contract for work with the customer, our company will prepare and obtain the necessary approvals from the relevant authorities (Regional Public Health Office, District Environmental Office)
Authorities have a period of 30 days to issue their consent. Only after we have made the decision can we start the job.
Before dismantling, our employees stabilize the asbestos covering by applying (spraying) product A - penetration power. With the help of STORCH high-pressure spraying equipment, we spray the roofing. The product A penetration power stabilizer thus applied solidifies within a few minutes. A continuous rubber layer is formed which firmly stabilizes AZC fibers against air leakage.
Subsequently, our employees will manually disassemble such stabilized asbestos roofing. The roof covering is removed and placed in PVC bags directly on the roof and the sacks are labeled "CAUTION ASBESTOS".
The asbestos wrapped in impermeable plastic bags shall be placed in a container and transported to an authorized waste dump by an authorized carrier.
The last step is to prepare a final report for the customer, which he needs for the final building approval (if stated in the building permit)
In this way, professional remediation of asbestos roofing should be carried out. Unfortunately, in practice we encounter unprofessional disassembly, or a requirement only for the export of asbestos roofing. We would like to remind our customers that our company can provide only comprehensive asbestos remediation and no partial solutions (only transportation, disposal or delivery of disposal documents). The most important and highly underestimated activity is the stabilization of asbestos itself with product A - penetration power. Improper handling of the asbestos covering can result in damage to health not only for the dismantler but also for those in close proximity, i. public health (neighbors, tenants) may be endangered. Therefore, we do not recommend you to handle asbestos coverings, but we recommend that you contact a company authorized to handle asbestos material.