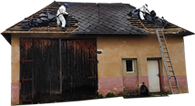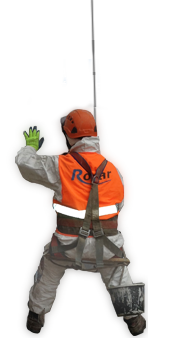 About asbestos
What is asbestos?
Asbestos - "Miracle mineral" was formerly used as a fire-resistant insulation material. Fiber silicate natural material was used for many decades in many industries, especially in the construction industry, due to its exceptional properties (high temperature resistance, abrasion, oxidation, tensile strength, flexibility). The most commonly used asbestos is chrysotile, which was mined from 1870 to 1992, the amound of 150 million tons.
Harmfulness of asbestos
Asbestos is particularly dangerous to humans due to its free-flying microscopic fibers. These invisible fibers with a length of 5μ and a thickness of 3μ during inhalation (inspiration) enter the lungs. Due to their strength and sharpness, the fibers penetrate into the cell walls of the lining of the lungs. The self-cleaning effect of the lungs, which can remove the dust from the lungs when coughing, does not work in this case. Long-term effects of asbestos fibers in the body cause diseases.
Diseases caused by exposure to asbestos:
pulmonary asbestosis (gradual replacement of lung tissue with connective tissue) - accompanied by irritant cough, coughing up, indeterminate chest pressure, progressively worsening dyspnea and ultimate cardiac-lung insufficiency
lung cancer, mesothelioma - a disease of the lining of the abdominal cavity, or cancer of the gastrointestinal system.
Important notice:
The latency between the onset of asbestos exposure and disease development is 20 to 40 years.
There is not known safe level of asbestos exposure. Asbestos exposure threshold is not determined. (No harmless amount of inhaled asbestos fibers is determined.)
The more you are exposed to asbestos exposure, the greater the risk of asbestos-related illness
If a strong smoker works in an environment at risk of asbestos exposure, the likelihood of occurrence of bronchial disease increases by 50-90 times compared to a non-smoker who does not work in such environment.
FACTS:
The EWG (Washington-based Environmental Research Group) analysis predicts ,that under current development, more than 100,000 people will die of asbestos-related illnesses in the US over the next 10 years.
According to the British HSE (Health and Safety Executive), by 2010, the number of deaths from asbestos-related illnesses in the UK will increase to 10,000 per year.
In Sweden, there are recorded more deaths due to the later effects of asbestos exposure than the total number of fatal accidents at work (European Agency statistics).
Asbestos is classified according to WHO - IARC grade no. 1 - demonstrable carcinogen for humans
If a strong smoker works in an environment at risk of asbestos exposure, the likelihood of occurrence of bronchial disease increases by 50-90 times compared to a non-smoker who does not work in such environment.
In the US, building demolition causes long-term high concentrations of asbestos in the environment, which last for several months.
In the past, asbestos diseases only occurred in workers working in the asbestos industry. Later, the disease also began to occur in people who were not professionally exposed to asbestos.
While a few decades ago most of the deaths occurred among workers exposed to asbestos, nowadays more than a million people in the workplace and millions more in their surroundings or the environment are currently exposed to this refractory mineral.What to do if we encounter asbestos?

If you encounter asbestos at work, notify the OSH or building manager. If asbestos and materials containing asbestos are not manipulated and there is no release of asbestos fibers, there is no risk of injury.

If you work in building industry, maintenance or you do cleaning and clearance operations, you may be at risk of being exposed to asbestos.

Before starting work, make sure that a check has been carried out to determine the presence of asbestos. Assume that asbestos is present unless they prove the opposite. Stop work and seek advice if you suspect there may be asbestos.

Under no circumstances should you handle, remove, cut, drill, break, or otherwise manipulate asbestos containing materials.

Where is it, where do we come into contact with it?

walls, partitions (insulating panels in partition walls)
building facades, soffits and cladding of building exterior shells
fireproof coating on steel structures
insulation on steel building structures
suspended ceilings (as fire protection in ceiling bulkheads)
roofs (mainly asbestos-cement products, so-called eternit)
ceilings of offices
decorative wall and floor coverings
floor tiles, linoleum flooring
boilers with thermal insulation
thermal insulation on heaters and boilers
wiring, doors
water and waste pipeline networks

In the past, asbestos was used mainly in thermal insulation materials such as:

thermal insulation boards used for building cladding
fireproof coatings
in electrical insulation materials,
fire-resistant textile materials

" Asbestos is still here with us ", warns Dr. Richard Lemen, medical adviser for environmental issues and former US Chief Medical Officer of Health Services. "While we have reduced the exposure to this mineral, and this is a step in the right direction, we have not launched an education or public health awareness campaign to inform people that asbestos still exists and preventive measures need to be taken; otherwise people will continue to get sick and die. "

Asbestos is the number one cancer-causing factor in the workplace

Penalties and fines for unauthorized handling of asbestos

The total price for professional disposal of asbestos is financially demanding, but in case of violation of the laws of the Slovak Republic - 79/2015 Coll. the fine from the competent authorities is much higher.

In the case of unauthorized handling of hazardous waste HW - ASBESTOS as defined by the valid legislation of the Slovak Republic - 79/2015 Coll. http://www.zakonypreludi.sk/zz/2015-79#cl1-cast10 threatens to impose sanctions from competent authorities for:

NP - Natural person a fine of up to €2,500 may be imposed
LP – Legal person a fine of €2,500 - €120,000 may be imposed

Certificate

The company has implemented an integrated management system focused on quality assurance, environmental protection and occupational safety.

New - Work at heights

Ronar company provides work at heights with mountaineering equipment

Dismantling of asbestos from roofs

If you have asbestos roofing on your family house the procedure is as follows:

Our company will prepare a non-binding price offer for professional dismantling of ASBESTOCEMENT Roofing (ETERNIT - corrugated, template)

The price for ASBEST is calculated according to several factors, which are: - the size of the asbestos roof covering, the location of the construction site away from the hazardous waste dump, the site conditions (need for scaffolding, mobile forklift platforms ...)

These factors have a major impact on the price of asbestos - asbestos coverings.

The offer will include comprehensive service - (all necessary approvals and permits will be provided by our company):

Based on the contract for work with the customer, our company will prepare and obtain the necessary approvals from the relevant authorities (Regional Public Health Office, District Environmental Office)
Authorities have a period of 30 days to issue their consent. Only after we have made the decision can we start the job.
Before dismantling, our employees stabilize the asbestos covering by applying (spraying) product A - penetration power. With the help of STORCH high-pressure spraying equipment, we spray the roofing. The product A penetration power stabilizer thus applied solidifies within a few minutes. A continuous rubber layer is formed which firmly stabilizes AZC fibers against air leakage.
Subsequently, our employees will manually disassemble such stabilized asbestos roofing. The roof covering is removed and placed in PVC bags directly on the roof and the sacks are labeled "CAUTION ASBESTOS".
The asbestos wrapped in impermeable plastic bags shall be placed in a container and transported to an authorized waste dump by an authorized carrier.
The last step is to prepare a final report for the customer, which he needs for the final building approval (if stated in the building permit)

In this way, professional remediation of asbestos roofing should be carried out. Unfortunately, in practice we encounter unprofessional disassembly, or a requirement only for the export of asbestos roofing. We would like to remind our customers that our company can provide only comprehensive asbestos remediation and no partial solutions (only transportation, disposal or delivery of disposal documents). The most important and highly underestimated activity is the stabilization of asbestos itself with product A - penetration power. Improper handling of the asbestos covering can result in damage to health not only for the dismantler but also for those in close proximity, i. public health (neighbors, tenants) may be endangered. Therefore, we do not recommend you to handle asbestos coverings, but we recommend that you contact a company authorized to handle asbestos material.

Our company offers comprehensive services in the field of asbestos disposal:

Disposal of asbestos
Elaboration and approval of the asbestos hazard disposal workflow by the relevant RPHP.
Professional dismantling, stabilization, transport, disposal of asbestos at the hazardous waste dump
Measuring the concentration of asbestos fibers in the air after remediation (interior)

We act straight, we don't hide anything

After 15 years of practice, we can say: Your asbestos, our problem
We value reputation and long-term cooperation more than fast profit and low-quality work at lower prices

We are all over Slovakia

Although our company is based in Košice, we are able to cover all of Slovakia with our services.

Non-binding price offer - asbestos liquidation price

Asbestos cost for disposal depends on several factors. The most important figure for calculating the price is the area of the roof covering as well as the location of the roof. Inspection is required if asbestos removal from buildings is demanded.

If you are interested in preparing a non-binding price offer - dismantling the roof covering, please give us the necessary information and send it to the e-mail address ronar@ronar.sk

Approximate area (m2)
Type of asbestos (wavy line / template)
Location
Building identification (family house, apartment building, ...)
Expected date of implementation